SocialHouse is an innovative take on the concept of social living combining elements of the new sharing economy, real estate, and algorithmic people matching.  One might think of this enterprise as AirBnB meets Apartments.com meets eHarmony.
Role:
General UX Consulting
Wireframes and Architecture
User Personas and Flows
Functional Specifications
Art Direction
Ongoing Coordination
SocialHouse hired Rich Abronson of Zero 2 Eleven to develop and refine the founders' ideas into a realistic MVP from which an outside development shop could execute and launch this innovative platform.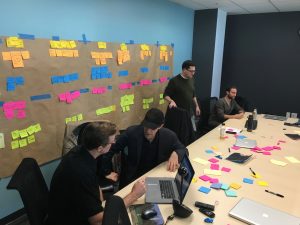 Starting with a series of strategic meetings, competitive analysis, and some core user personas, Rich Abronson led the team through user journey exercises out of which emerged the essential features and functionality of the SocialHouse platform.  From there, we differentiated various components of the SocialHouse platform and the corresponding user flow diagrams.
The next step was to generate a highly comprehensive set of wireframes enabling the team to further refine the user experience and functionality while illuminating the business case and the technical requirements.  These wireframes were attached to a formal RFP that enabled the business to obtain a very accurate appraisal of the development cost and timeframe from a number of vendors.  In addition, Rich Abronson wrote detailed user stories and a functional specification that lined up with the wireframes.
Armed with a deep understanding of the SocialHouse business, platform, and requirements, Rich Abronson assumed a lead role coordinating efforts and refinements with the chosen engineering vendor and the business.  Simultaneously, Rich worked directly with a visual designer to produce pixel-perfect renderings from the wireframes.
Taken together, the deliverables (user personas, user flow diagrams, wireframes, users stories, functional specification, and visual design renderings) constituted a complete set of "blueprints" and instructions from which the engineering vendor could produce the final product.